Deauville Drawstring Backpack
Item No: CHA07840B
Express Shipping
Ships Next Working Day
Verified by HUNTSTREET
All items sold on HuntStreet are subject to a stringent verification and Quality Control process by our team of in-house experts and aided by high-end authentication technology.
Promo code not applicable to this product
Information
Item shows signs of wear with discoloration (uneven color fade) on the fabric surface. There is slight peeling on the leather parts of the drawstring closure. Bottom corners show micro tears and rubbing marks. Faint nail scuffs on the leather surfaces. Hologram sticker is covered with tape because the glue is starting to peel.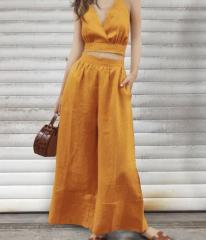 Related Items
Successfully copied product link to clipboard!